These 8 gauge barbed fence staples match the class 3 zinc coating of Longlife™ high tensile fence wire so that it will not rust prematurely. The barbs keep the staples from coming out as easily, especially in pine posts.
The staples are made from higher tensile wire than other staples so that they will not bend as easily while being driven into posts.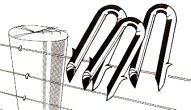 Notice how these "brand x" poorly galvanized staples are the "weakest link in the chain". They are causing the better coated barbed wire to rust prematurely which will eventually cause the wire to break at these rusty spots.
Barbed Staples from MAX-FLEX are available in 81# packages or 50# boxes (that are no longer wooden) and 1.8 inches (45 mm) long for pine posts or 1.2 inches (30mm) long for hardwood posts.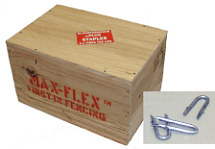 Use Staplesfrom MAX-FLEX with all wire fences on new treated posts. The newer post treatments are more corrosive so stainless steel or the best coated fasteners available are now recommended for all new construction.