Supercote™ Wire is 12 1/2 gage high tensile wire covered with a very visible white plastic coating that is bonded to the wire. Unbonded coatings shrink away from the ends and from hardware fittings to expose the wire and allow moisture to enter between the wire and coating. Bonded products are more resistant to corrosion and coating damage.
Supercote™ Wire - 1000 foot, 55 lb rolls.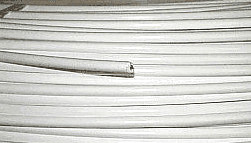 A spring and tightener can be encased in a plastic pipe (as shown below) for animal safety.

Supercote™ wire can be tied like all MAX-FLEX™ high tensile smooth wire so expensive and cumbersome tools and crimping sleeves are not needed.